Should you repair or replace an interior door?
While your front door usually gets most of the attention, it's important to understand the value of quality
interior doors
too. Just as your entry door protects against things like noise and the elements, your interior doors work to make each room private and comfortable. All doors endure daily use which means that there is bound to be wear and tear. Pets and small children can also take their toll on the appearance of the door and handles. The question many people have is whether they should
repair or replace
an interior door. There is no right or wrong answer to this question. It's a matter of your personal preferences.
Interior door repair
If there is anything on your door that presents a risk (if the door has splintered for whatever reason), then you might want to replace it as soon as possible. If you are in the middle of
home renovations
, you should wait just a little bit longer. Do a basic patch job on your door to conceal the damaged part while you complete the rest of the work in your home. The doors should be one of the last things you replace because you don't want them to get damaged when other work is being done. If the door is in really bad shape and you can't open or close it properly, you could remove it for the time being. Provided, of course, that you don't mind losing some privacy. This will work for rooms like dens or home offices. Your bathroom or bedroom, however, could be a different story!
Door hardware replacement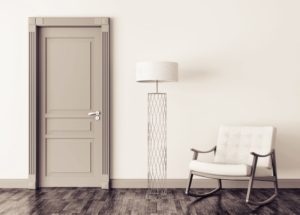 Sometimes there is nothing wrong with your interior door but the hardware itself. This means that you will only need to replace the affected
hardware
and your door will be back to its usual self! While inspecting your door, check for any other worn parts. For example, if one hinge is worn, check the others too. If the
door handle
is no longer working properly, check all of the other working parts as well. Just like doors, their hardware also offers variety. So, you can opt for a cheaper hinge or door knob but it will not last as long as those of a higher quality. Remember, it's not just about the materials used on the exterior of the hardware, but also what's inside! Inferior products are cheaper but they also use cheaper materials inside levers and locks. They are far more prone to wear and tear which means that they will need to be replaced more frequently. When you invest in better
quality hardware
, you can rest assured that it will stand the test of time. Another point to consider is that different types of door handles and hardware require different size holes in the door. So, rather than having to regularly make holes in your doors, it's worth considering investing in a handle that won't let you down.
Interior door replacement
There are also many reasons to
replace your interior doors
completely. The most obvious being damage or excessive wear. If your doors are old, worn, and need to be discarded, then it's time to shop for something new! Another good reason to invest in new
interior doors
is when you perform general renovations and upgrade your environment. If you are redoing your floors, repainting, and replacing various fixtures in your home, it's worthwhile replacing your doors too. Your old doors might not suit the new style or color scheme of the room whereas a
new door
can be selected based on this new look. For those welcoming a new baby into their lives, a new bedroom door is a great investment. Your current door might not offer as much insulation or soundproofing as necessary. If you want your baby to enjoy a peaceful sleep, it's best to offer them as much silence as possible. A
high-quality interior door
will give dear baby their much-needed peace and quiet while you go about your usual business.
Shop for quality
Like your entry door, interior doors are not something you want to replace every couple of years. Apart from the expense, it can be extremely inconvenient every time you need to measure, order, and install a new door. A quality interior door made from the
finest materials
will stand the test of time in terms of durability and style. Choose a neutral color and you will never have to worry about your door clashing with the colors or theme of the room! At
The Door Boutique
, we are proud to offer the very best interior doors in Canada. Enjoy luxurious European style in your home today! Contact us at
to find out more about our superior quality interior doors and
interior door hardware collection
.
Comments are closed