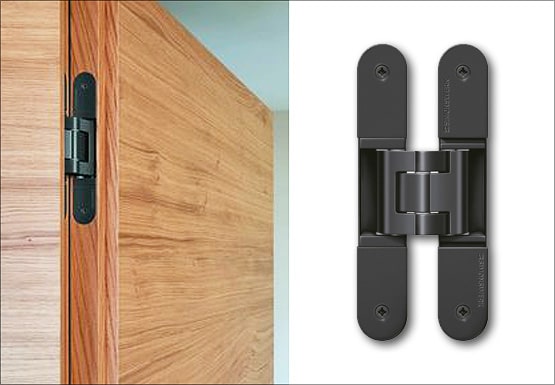 TECTUS
The completely concealed hinge system
The completely concealed hinge system TECTUS enables unrebated doors to be completely flush and therefore integrated into rooms designed with straight lines. When closed the door will remain visible, with an invisible hinge system. TECTUS carries load capacities up to 300 kg, enables an opening angle of 180 degrees and can be used on timber, steel and aluminium frames. Three-dimensional adjustment and maintenance-free slide bearing technology are used for high-quality interior doors and functional heavy-duty doors.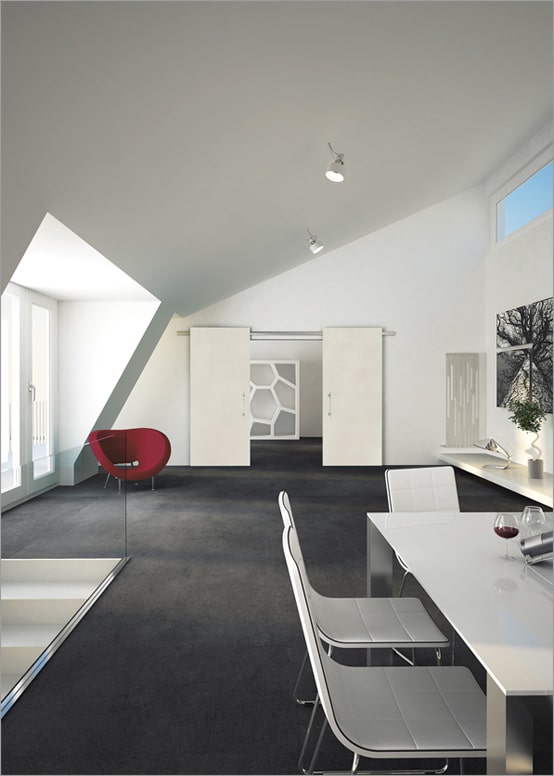 DIVA AIR
Patented sliding system for doors with cushioned stop
Diva Air is the innovative patented sliding system with cushioned stops for wooden design doors. Characterized by minimalist lines, the Diva Air system with frontal sliding enhances the design of the door, thanks to the completely hidden sliding doors. The track, partially hidden by the door from the door, is available in various finishes.
Easy to assemble
The shock absorber is inserted in the track and is quipped with automatic loading, to be performed before using the door.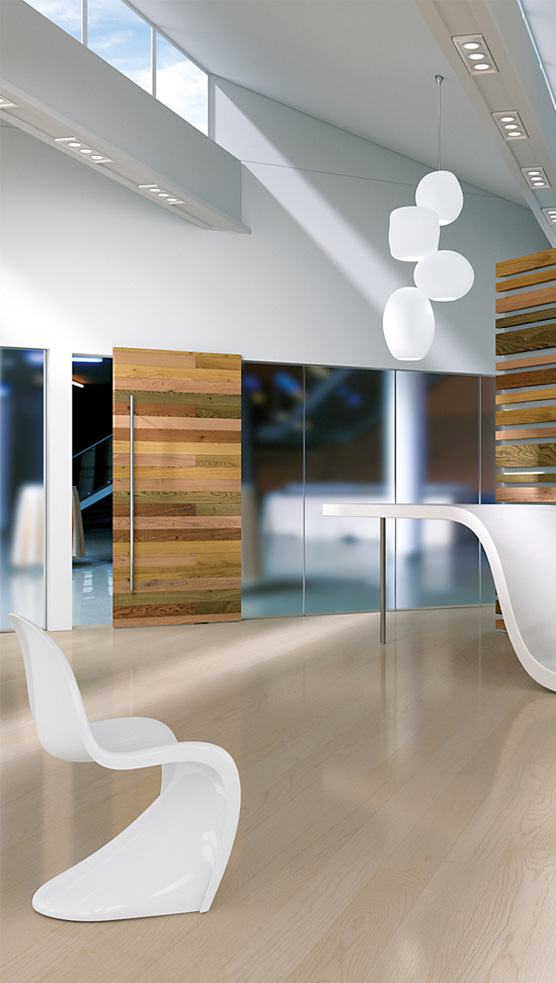 MAGIC
Patented invisible system for external wall sliding doors with cushioned stops
The new system that allows to completely hide the view of the sliding track, both with open door and with closed door. A patented and innovative product that combines aesthetic and functional research in a concrete response to the needs of the increasingly complex challenges imposed by the market.
High aesthetic content, ease of assembly, quality of every single details, are the trump cards that have made this new mechanism at the cutting edge of design.
The hight-performance sliding system is equipped with shock absorbers that allow soft braking both when opening and closing. Moreover, the completely invisible mechanism gives the whole and extremely linear and essential appearance.
The goal of Terno Scorrevoli was to once again give a new identity to the external wall door, offweing an extremely versatile product, able to adapt to different contexts without sacrificing quality: less is more… it's Magic!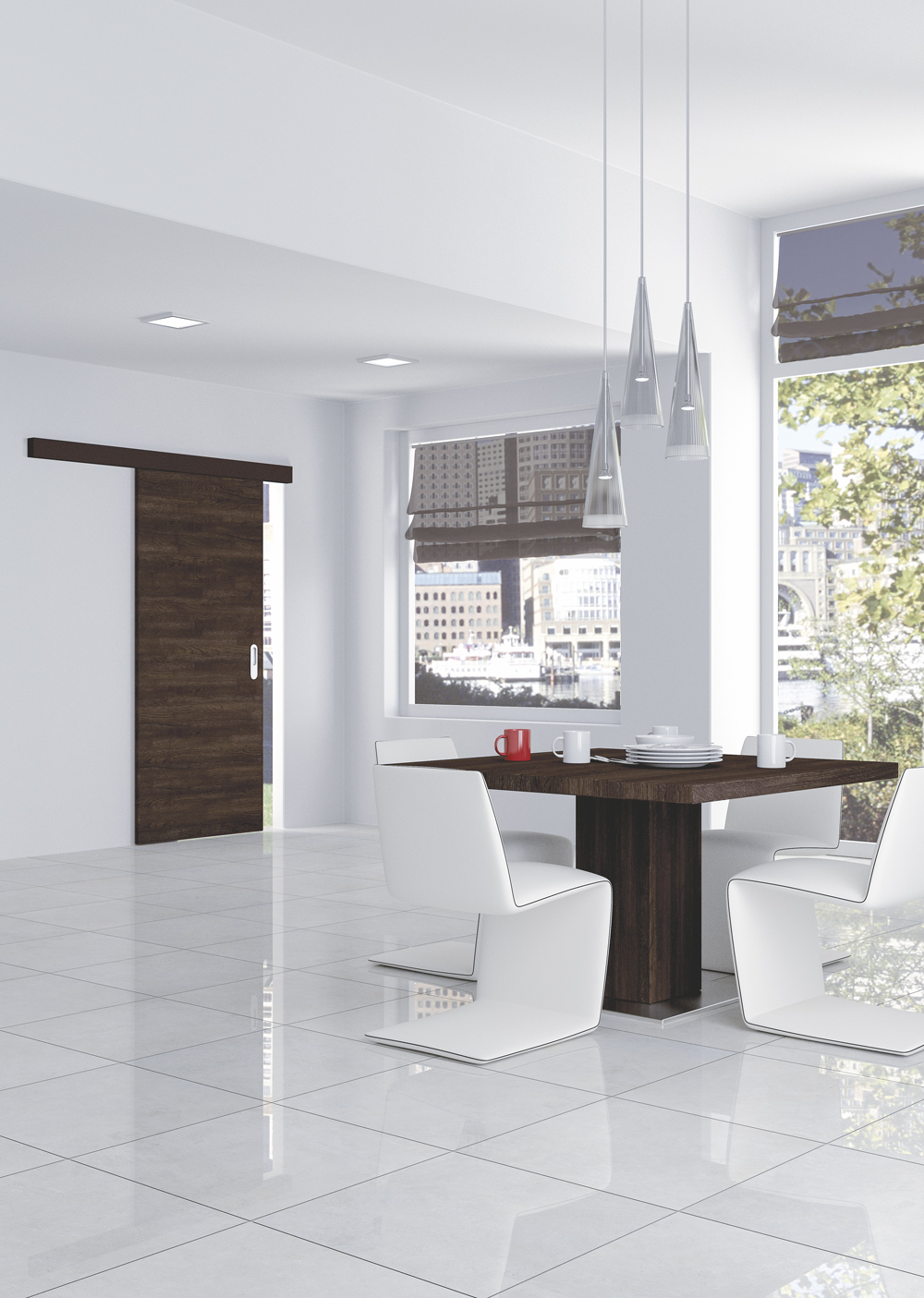 CLASSIC
Slides with standard bracket
Classic is the standard bracket sliding system for wooden doors, available with traditional, oil damper and air damper stoppers.
Economic and easy to assemble, with floor distance of only 6 mm.
Classic system (kg. 50-80-120) is equipped with a damping system in rubber which reduces significantly the noise level.

Tracks

Lower guides

Brackets for aluminium tracks
EVOLUTION
The invisible bracket sliding system
Evolution is the revolutionary sliding system for internal glass and wooden doors, born to come out from the traditional concept of the standard bracket, available with new Fluid dampers.
Evolution system has floor distance of only 6 mm; it is equipped with a damping system in rubber which reduces significantly the noise level.
The classic bracket has evolved, becoming invisible
In times of difficult economic recovery, we often think about optimizing new solutions that well match the concepts of simplicity and cost effectiveness. So it happens that from a simple concept something extraordinary arises. Something extremely original, capable of rewriting all the rules.

Terno Scorrevoli, increasingly engaged in the development of products that can be functional and aesthetically pleasant, has created Evolution, a sliding system for internal wooden, which stands out from classic bracket systems.
Compared to traditional door bracket systems, Evolution revolutionizes the sliding unit concept in several ways.
Fully concealed recessed fitting
One of the main features of this system is the lack of any visual impact. In fact, the system is designed to be completely concealed, including the option of a recessed ceiling rail.
Reduced upper/lower gap
Its peculiar structure allows the side positioning of the fastening and adjustment systems; in this way, there is only a 2 mm upper gap between the guide and the door and a 6 mm gap between the floor and the door.
Noiseless with anti-bounce system
The bracket features an innovative anti-bounce system which, together with the air shock absorbers, allow a stable and soft stop of the door.
Evolution is a truly special patent system: its features make it interesting in every sense. Anyone who is looking for an enhanced door sliding system, will be thrilled about this recessed sliding system.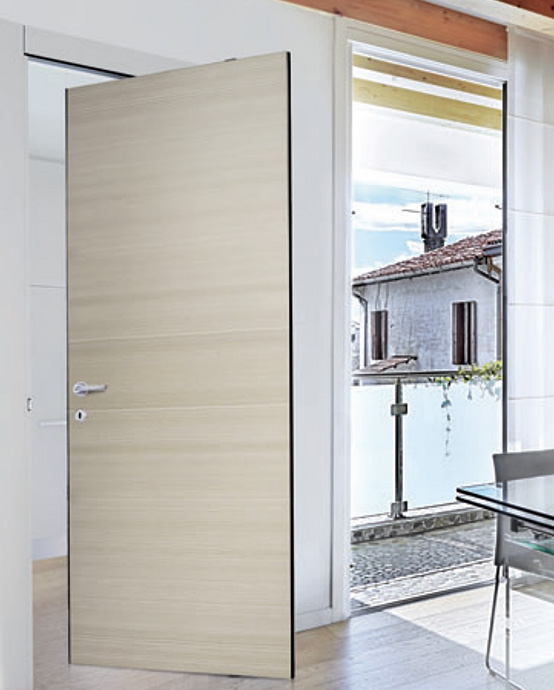 ERGON
ERGON® Living changes the concept of door, by reducing swing-space requirements by 50%.
ERGON® Living changes the concept of door, by reducing swing-space requirements by 50%. Thanks to the innovative movement, the door can be opened from either side, or on just one side with a stop.
It has no special design requirements and can be installed on any subframe as a wooden, glass, metal or plastic door.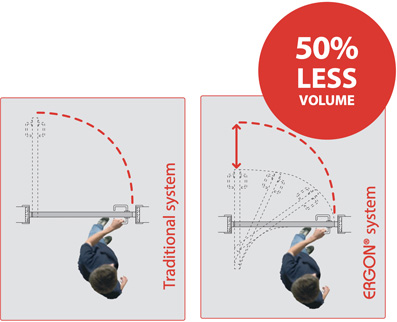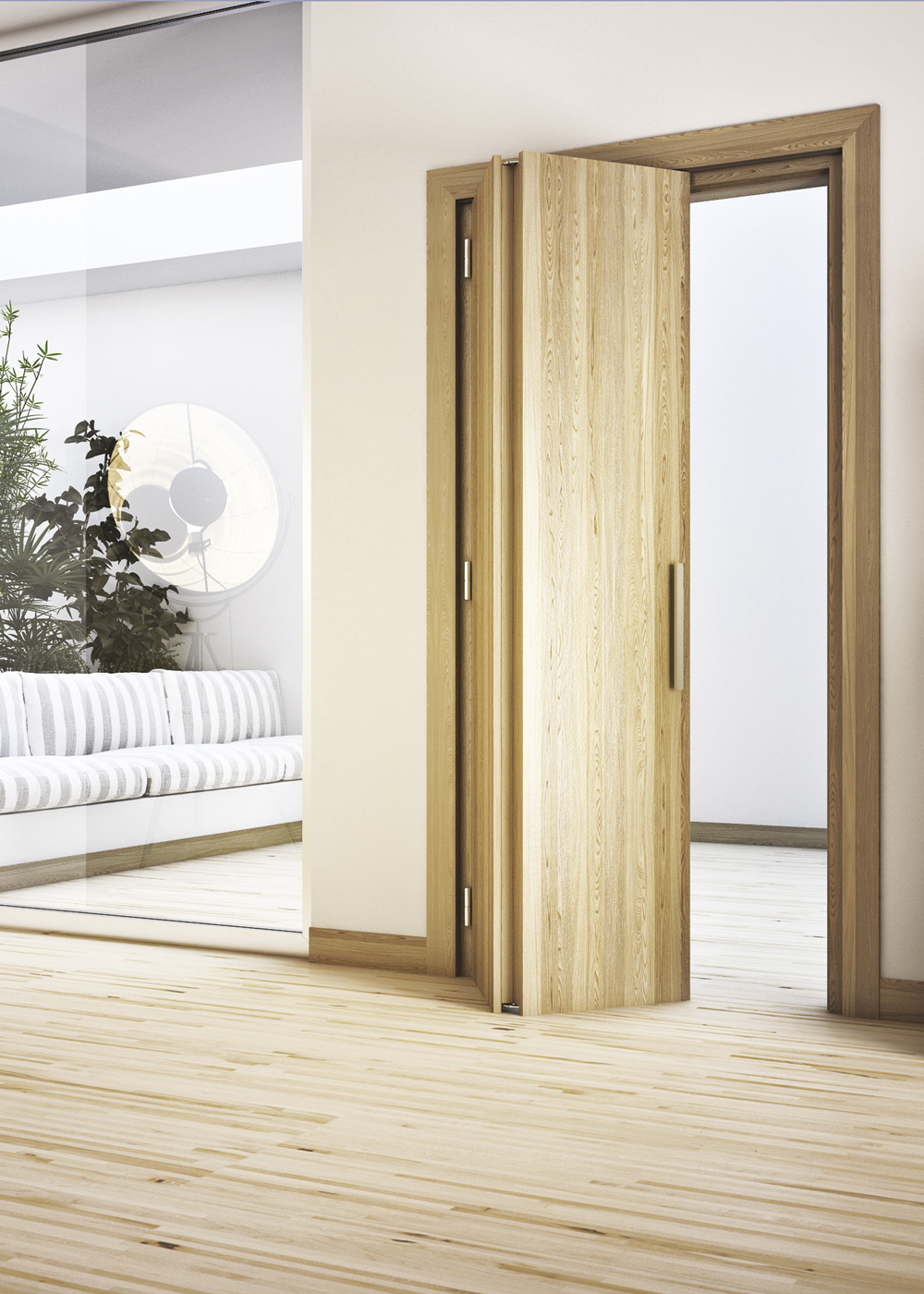 FOLDY
Folding door with external hinge opening and mechanisms for folding doors with hinge opening.
Foldy is a system for wooden folding doors with external hinges opening.
The system has multiple configurations, able to satisfy any need: Foldy is made up of two equal doors or two unequal doors; the doors can be close together or spaced; the system is compatible with external hinges.
Finally, Foldy integrates the possibility of opening the doors both to the right and to the left.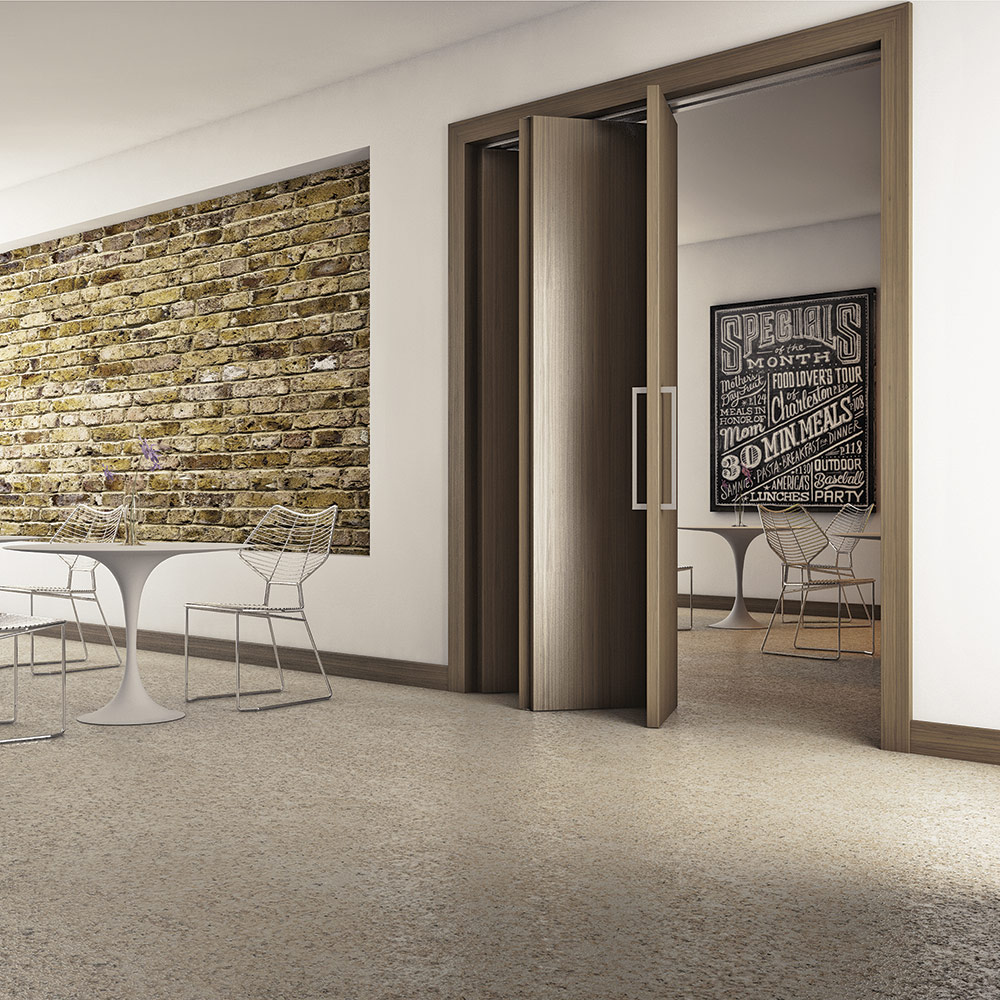 Accordion
Accordion folding doors with hinges and central sliding panel.
Accordion system is dedicated to multiple leaves folding doors with, combinable with pivot joints or hinges.
The system it allows a configuration of three or four leaves.
The sliding system it is fixed in centrally to each leaf, in order to grant an always balanced motion.