Why Choose Black Doors
Colour is one of the main concerns when it comes to choosing the
right doors
for your home. One of the most popular colours is black and, while some might be skeptical, experts understand how this colour can improve various areas of your home.
Here are some reasons to choose black for your interior doors:
Elegance
Black is a popular choice for anyone who would like to
add elegance
and class to a particular room. White doors, for example, create a, charming, country-style feel whereas black doors will give you more of a
sophisticated look
.
Complement Accents
If you have one or more black accents in your room, adding a
black door
will help emphasize these accents and bring everything together. It will help you create a more cohesive space and, if you prefer, you can contrast it by choosing a light, or white, frame.
Downplay A Door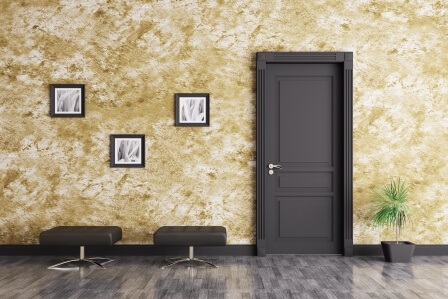 If you want to downplay a door, you can choose a darker door to help disguise any imperfections.
Black
will make an otherwise unattractive door less of an influence on the room.
Create A Frame
When you
install a black door
with glass panels, you will help create a
wonderful frame effect
. Much like a picture frame, your black door will help frame the view of the room on the other side of the door.
Creating Balance
A fireplace, or a large TV, in a room can take on the appearance of a void. To offset this, you can add a black door. This will help offset the black void and create more of a balance in the room.
Improve Any Door
The colour black can make any door look even better. If black can make an old door look good, just imagine what this colour choice could do for a
modern interior door
! Of course, when your doors look this good, you know that it will have a
positive effect
on the whole room as well as your home in general.
Hide the Dirt
Lighter colours tend to get dirty rather quickly. Especially if you have children or pets.
Darker colours might still pick up dirt
but it will not be nearly as noticeable. You will still need to clean your black doors, but you will not be struggling with stains.
Clear Destination
When you have a long hallway and you want to set a clear destination point, you can't go wrong with a black door. It's great for giving spacious rooms some definition through the
art of contrast colours
.
Some Reflection
Mirrors are known for adding
beautiful reflective style
to a room. A black door possesses a similar ability due to its shine; you can choose a
matt or glossy
finish depending on your personal preference. Obviously, the glossy variety reflects more light and will add more sheen to the room.
Complement Dark Floors
If you already have dark floors, you might not want to add too many dark design elements as it can make the room look really small.
A black door, however, will complement the dark flooring without making the space feel smaller
.
Taller Ceiling Effect
Contrasting colours
are very attractive to the eye. Narrow, black doors help bring the eyes up and thereby tricking the brain into thinking that the
ceiling is higher than it really is
! This is particularly great when you are looking for the right door for your basement or any other parts of the home with low ceilings.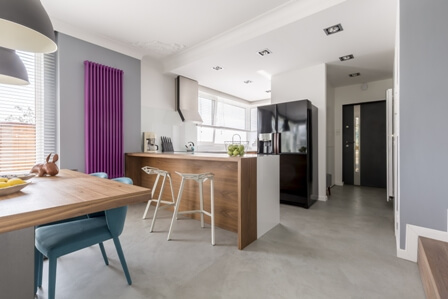 With all of these benefits in mind, some people still wonder if a
black door
is the right choice for them. One concern is that it will show dust quicker than a lighter-coloured door. While this may be true, but there are ways to
avoid frequent cleaning
. To begin, you should opt for a
simple door
that is not too detailed. The more detail, the more areas the dust can hide. Secondly, you can wipe the door down with water, but be sure to dry it immediately afterward. Since dust is attracted to water, if you leave it to air dry, it will simply attract more dust as it dries. You can also use
anti-static furniture cleaners
to help wipe dust away and keep it from coming back. Just do not just dust your doors with a feather duster and such. These old cleaning methods only toss dust up into the air, leaving it to settle back down onto your furniture and doors yet again. When investing in a black interior door, make sure that you carefully consider the benefits of quality products. At
The Door Boutique
, we offer a variety of
high-quality interior doors
that are designed to last. Your doors are not something you should be replacing on a regular basis. They are an investment that you should be able to enjoy for years to come.
Call us at
to find out more about our superior range of
modern doors
.
Comments are closed