Ways to reuse your old doors
No matter how durable a door might be, time will eventually take its toll and it will need to be replaced. When you invest in high-quality doors, you can rest assured that they will last longer than those of inferior quality. When replacing an old door, you might be inclined to dispose of the old door. Before you do, however, take a moment to consider how you can reuse the old door to improve your environment. Here are some great upcycling ideas for those old doors.
Corner Shelf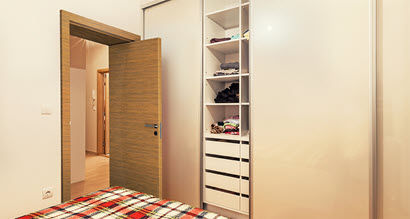 Slice your door down the middle (from the top to the bottom) and secure them in a corner. Add triangle-shaped pieces of wood to create shelves. You can add as many as you like but usually, three or four look best. Now you can set your most cherished memories out on display. If you leave the door in its original state, you can create a rustic or traditional theme. If you sand the door down and repaint or stain it, you can refinish the door to
suit your décor
. Consider using these shelves to display vases, books, or even spices and other handy items in the kitchen.
Coffee Table
There are many ways of using a door to make a table. You can create one large table or several smaller side tables if you prefer. Like the shelf idea, you can choose the finish and colour you wish. You can sand the door down, paint it, or stain it if you like. You can choose to secure the table to a smaller solid piece of wood or you can attach legs if you prefer. Some people like to add a second table underneath for storing magazines and other reading material. Another popular idea involves attaching a thick piece of glass on top of an old door so that it offers the beautiful effect without all the maintenance. This is particularly great if you want to use a door that has several glass inserts. The glass on top of the door will create a flat surface yet it will still have a textured appearance. You can even add decorative items like photos under the glass if you want
something sentimental and personal
.
Headboard
Headboards can be quite expensive but
you don't have to pay
that high price if you have an old door. You will need to clean, paint or refinish, and trim the door to the appropriate size. You can add a piece of the door frame to the top of your new door headboard so that you can display various items above your bed. Make sure that the headboard is properly secured to the wall in several places.
Add a Mirror
Mirrors are great for making a room appear more spacious and they are
extremely practical
too.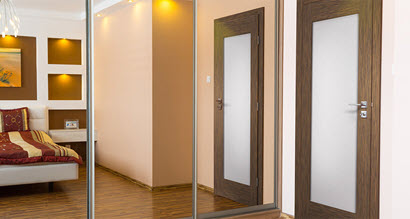 You will simply need to decide on the size of the mirror you wish to add and then trim the door accordingly. It is best that the area where the mirror is applied is perfectly flat. Warped surfaces can create warped reflections so take care! This is a trick they use in those popular mirror mazes and carnival attractions which is the last thing you want when inspecting your own reflection before leaving home.
Sliding Doors
If you have two rooms that you wish to separate but there is no need for a door that provides the perfect seal, you can use your door as a sliding door. You could even use two identical doors for a larger opening. This is a good tip for splitting spaces and defining areas like your dining room and living room. You will need to trim the door to size and install the
necessary hardware
to
convert the door to a sliding door
.
Photo Frame
This is especially great if you have a door with several smaller clear glass panels. Clean and refinish or paint the door if desired. Select your photos and place each photo behind each of the glass panels. Add a thin piece of backing board (plywood or something similar) to hold the photos in place and secure your new large photo frame to the wall. If the glass panels inside the door are in the middle and your photos move around, you can secure the photos to the backing board with glue or something temporary like tack. If you are worried about oil marks developing on the photos, simply have them laminated first. At
The Door Boutique
, we have a wide selection of high-quality modern interior doors just waiting to
transform your home!
Just remember, your old doors don't necessarily need to find their way into the garbage – you can reuse them in so many different and wonderful ways!
Call
to find out more about our
luxurious range of interior doors
.
Comments are closed