Pre-finished versus unfinished doors
If you are thinking about fitting new
interior doors
, you might be wondering about the difference between pre-finished and unfinished doors. In order to make the best choice for your home or business, it's important to understand the differences between these options as well as their
benefits and disadvantages.
What are pre-finished and unfinished doors?
A
pre-finished door
is one that is completely finished and ready to be fitted. There is no need to prepare the surface or paint it. Apart from the
staining or painting
, these doors usually also have holes cut into them for hardware to be fitted. The only thing you need to do is add the hardware and install the door itself. On the other hand,
unfinished doors
are not stained, painted, and they might not have any holes cut into them. Before installing them, it will be necessary to sand, stain, or paint them first. The door will need to be on a flat surface when painting in order to prevent dripping.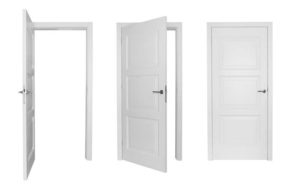 Cost difference
It should go without saying that an
unfinished door
will be cheaper than a finished one. This is because the cost of manufacturing an unfinished door is significantly lower than the cost of making a
pre-finished door
. A lot more time and materials are involved in the finishing process which is why it's understandable for the price to be somewhat higher. If you are planning on hiring somebody to finish the door for you, the cost of labour and materials can actually mean that the unfinished door will cost more in the end. Even if you plan on doing the job yourself, it will mean that you will need to spend extra time working on the door. With a pre-finished door, you will need to fit the hardware, install the door, and you're all done!
Durability differences
Pre-finished hardwood is usually more durable than the unfinished variety. A professionally finished door will withstand a great deal more wear and tear than one you've finished after the fact. Finishing the door at home usually involves applying two or three coats whereas a factory finished door will have
seven or more coats
! They also undergo a special process to ensure that the coating bonds to the door and ensure that it's even more durable than ever. Of course, an unfinished door can be touched up when necessary in order to extend the lifespan. You may have to remove the door, sand it down, and refinish it from time to time.
Simplicity
It's fairly obvious that a pre-finished door will be your easiest and quickest option. If you plan on finishing a door yourself, it will take hours of effort and there is room for error. If you hire a professional, you will still have to endure the inconvenience of having a contractor in your home and all the dust and mess that goes with sanding the door, for example. Factory finished doors are ideal because you don't need to worry about any of these issues. You can simply receive the door and get to work installing it! At
The Door Boutique
, we offer a wide variety of stunning modern interior doors. We never settle for anything less than the very best in terms of quality and style.
Contact us today at 
for more information.
Comments are closed